TRiM training in Africa
Added on the 24th March 2016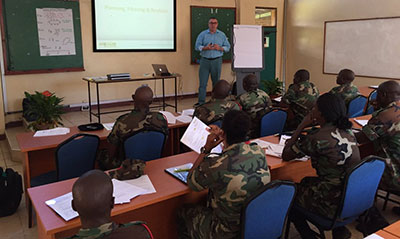 We were back in Africa for TRiM training earlier this month, with the first March on Stress courses to be delivered in Malawi.
Operations Director Gavin Rogers flew first to South Africa where he trained a number of British Peace Support Team personnel, before moving onto Malawi where he was joined by Associate Trainer Tony Ramskill to train members of the Malawi Defence Force.
The training followed earlier visits by the March on Stress team to deliver TRiM courses to the Ugandan People's Defence Force, with further training planned in Uganda later this year.
Speaking about the training experience in Malawi, Gavin Rogers said: 'The hospitality we received was fantastic and the delegates on the course were very enthusiastic.
'They could see the benefit to them of undergoing the training and the feedback we received was very positive, with them all keen to support colleagues with their new found TRiM skills.
'We look forward to continuing to work with and support both the British Peace Support Team in South Africa and the Malawi Defence Force.'
For more on TRiM by March on Stress, please contact us at info@marchonstress.com.
---
Page Loaded Date/Time : 2023-05-31 01:17:34
Keywords : Organisational Resilience, eHealth Monitoring, Crisis Management, TRiM Education
Description : March on Stress provide psychological counselling, ability to understand PTSD, and Trauma Management (TRiM)