Changing Landscapes: Mental Health at Work
09:00 on 28th Feb 23
Price : £190.00 exc VAT
Held at 10 Union Street , London, SE1 1SZ
Event Information
Join us in London for the next March on Stress conference!
'Changing Landscapes: Mental Health at Work' will take place in London on Tuesday, 28th February 2023.
Although we have still to finalise the full programme, we are delighted to confirm that speakers so far include the current President of the Society of Occupational Medicine, Dr Shriti Pattani; child trauma expert Dr David Trickey; President of the UK Psychological Trauma Society, Dr Dominic Murphy; Senior Associate Employment Solicitor, Ryan Bradshaw; as well as our own Managing Director and trauma and PTSD specialist, Professor Neil Greenberg.
Who should attend?
The conference is a fantastic learning opportunity for anyone interested in, or involved with, supporting people with trauma or stress in the workplace. For TRiM and StRaW personnel the day will provide an excellent CPD opportunity.
Where and when?
The conference will take place at 10 Union Street, SE1 1SZ (near London Bridge) on Tuesday 28th February 2023.
Registration will begin at 0900 for a 0930 start and the event will finish no later than 1630.
---
Conference Information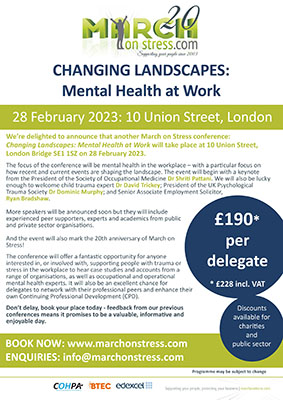 ---
Page Loaded Date/Time : 2023-02-02 20:55:59
Keywords : Crisis Management, TRiM Training, Hostage Situations, TRiM UK Courses
Description : March On Stress, a UK company providing psychological support, TRiM courses and TRiM BTEC